Vegetarian meals for May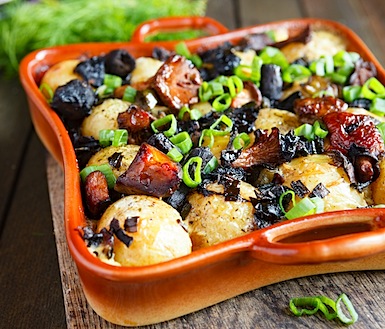 1.    Spanish Tortilla http://www.bbc.co.uk/food/recipes/tortillaspanishomele_67957

2.    Vegetable Paella http://www.theguardian.com/lifeandstyle/2008/apr/12/foodanddrink.recipe

3.    Cauliflower and chickpea curry http://www.theguardian.com/lifeandstyle/2011/mar/03/cauliflower-chickpea-curry-recipe

4.    Parsnip bhajis http://www.theguardian.com/lifeandstyle/2013/feb/19/nigel-slater-parsnip-potato-rosti

5.    Aubergine Parmigiana   http://en.julskitchen.com/family-recipes/melanzane-alla-parmigiana-aubergine-parmigiana

6.    Halloumi, Courgette and green bean salad http://realfood.tesco.com/recipes/halloumi-courgette-green-bean-and-tomato-salad-.html

7.    Frittata with summer veg and goats cheese http://www.jamieoliver.com/magazine/recipes-view.php?title=summer-vegetable-aamp-goat-s-cheese-frit

8.    Macaroni peas  https://sites.google.com/site/oakcottagerecipes/macaroni-peas

 

9.    North African squash and chickpea stew http://allrecipes.co.uk/recipe/15490/butternut-squash-and-chickpea-stew.aspx

10.Oven roasted ratatouille http://www.deliaonline.com/recipes/cuisine/european/french/oven-roasted-ratatouille.html

11.Caramelized garlic tart http://britishfood.about.com/od/adrecipes/r/caramelisedgarlictart.htm

12.Very full tart http://www.food.com/recipe/ottolenghis-very-full-roasted-vegetable-tart-448108

13.Risotto of young broad beans and peas http://www.bbcgoodfood.com/recipes/1267655/risotto-with-peas-and-broad-beans

14.Pasta with sprouting broccoli and cream http://www.trevilleyfarm.com/content/creamy-lemon-pasta-purple-sprouting-broccoli4

15.Pumpkin laksa http://eatlittlebird.com/2012/01/20/pumpkin-laksa/

16.Mushroom pizza http://www.inmamaskitchen.com/RECIPES/RECIPES/Breads/pizza_mushroom.html

17.Chachouka http://www.healthygreenkitchen.com/chachouka.html

18.Veggie sausages and mash,

19.Baked beans on toast,

20.Noodles with stir fry veg  and peanut sauce

21.Baked potato and cheese

22.Egg and chips

23.Cheese souffle

http://www.bbcgoodfood.com/recipes/4805/cheese-souffl-in-4-easy-steps-

24.Veggie lasagna - any veg you have chopped and fried in some oil, add tinned chopped tomatoes, herbs and garlic and dehydrated soy mince (easy to find and cheap to buy). When you have a sauce layer it with lasagna sheets in a baking dish and top with grated cheese and milk.  Cover with a baking tray and cook at 200C for 35 minutes then 5 minutes with the tray removed.

25.Noodle omelette - heat oil in a big frying pan. Throw in beaten eggs and cooked noodles. Cook on a low heat, covered, until the bottom is cooked then grill to cook the top. Sprinkle on cheese and grill again until golden. Serve with salad or greens.

26.Pasta puttanessca veggie style - fry chopped onions and garlic.  Add sliced olives and capers, chopped tomatoes and tinned chick peas. Add basil and chili powder then simmer to a sauce. Serve with your favourite pasta.

27.Veggie chili - fry chopped onions and garlic then add sliced mushrooms. When cooked add chopped tomatoes and tinned  kidney beans plus chili powder and herbs. Serve with rice or baked potato.

28.Cauliflower cheese served with mashed potatoes to mop up extra cheese sauce.

29.Dhal and naans - cook lentils to a puree then add fried cumin, coriander, turmeric,  garlic and chili. Serve with bought naans, thick yogurt, mango chutney and salad.

30.Easy chickpea curry - fry a chopped onion. Add drained chickpeas, chopped tinned tomatoes and curry paste from a jar. You could add other veg like peas or potatoes too. Simmer until cooked and serve with basmati rice.

31.Easy bulgar wheat salad. Soak the bulgar wheat in boiling water until tender and allow to cool. Stir in olives, salted peanuts, vinegrette and what ever salad things you have: halved cherry tomatoes; chopped cucumber; chopped celery; thawed peas or sweetcorn; cubed avocado; tinned kidney beans etc and some chopped fresh herbs.

32.Fried eggs and mushrooms on toast.

33.Stuffed mushrooms - mix cottage cheese with pesto and spoon onto large mushrooms with the stems removed. Sprinkle with grated cheese then bake 180C for about 20 minutes until cooked through and golden. Serve with crusty bread to mop up the juice.

34.Golden vegetable soup : fry up chopped onions, garlic and carrots in a large pan. Add a couple of tablespoons of red lentils, a pinch of turmeric,  a teaspoon of cumin and a pinch of chili powder and fry for a little longer. Add vegetable stock and simmer until cooked. Liquidise if you like or just serve with warmed pitta breads.

Favourite recipes books: Veg Every Day – Hugh Fearnley Whittingstall

                                        Plenty – Yotam Ottolenghi (sometimes too complicated)

                                        Tender – Nigel Slate     Any of Rose Elliot's Books


Eating Less Meat- How to get started....

Here are some suggestions to ease your way into a meat free diet.

 

1.            Have Good Reasons

You'll need a bit of motivation to change to a meat free lifestyle, so first think about why you want to become a vegetarian and really believe in it. Once you're motivated, the rest is easy.

 

2.            At first, don't try to "never eat meat again"

You don't have to give up meat all in one go. You can give up gradually. Start by stopping eating red meat first and try that for a week or two. Then move on to giving up pork. Then transition to chicken and turkey. Many of your favourite meat recipes come in vegetarian versions allowing you to gradually transition away from meat. When you're ready, gradually cut out chicken and turkey and eat just fish. Eventually you can stop eating fish and go fully vegetarian.

 

3.            Plan for each phase

Set yourself a goal at each stage. If you're giving up red meat this week, make sure there is no red meat in the house, and replace it with chicken/fish or a vegetarian alternative. Plan your meals for the week, and gradually start to substitute meat with vegetarian alternatives. There is no rush! You don't have to change everything at once. Start with substituting one meat meal a week with a vegetarian option, and work your way up.

 

4.            Make vegetarian versions of your favourite meals

Simply replace the meat in your favourite meals with a vegetarian alternative. You can substitute vegetarian sausages for meat ones; vegetarian pizza for meat pizza; baked potatoes with beans and cheese instead of chili or bacon; and use quorn as a substitute for chicken in stir fries – the possibilities are endless.

 

5.            Think about your staples

A useful exercise is to make a list of foods you regularly eat, for breakfast, lunch, dinner, desserts and snacks. Not meals, but ingredients. And then think about vegetarian alternatives, and make a new list. For example, instead of eating chicken in a stir-fry dish, you might try tofu. With a new list of staples, you should have no trouble stocking your pantry. As you may be removing a protein source from your diet, make sure you don't just replace it with starchy carbohydrates. Keep your diet balanced and healthy.

 

6.            Explore the amazing variety of Ethnic foods

One of the great things about becoming a vegetarian is that it often spurs people to try new and interesting ethnic foods. Great vegetarian dishes can be found all over the world, from countries as far afield as China, Ethiopia, Morocco, Mexico, Brazil and more. You can do a series of country themed weeks, trying vegetarian dishes from a certain country each week.

 

7.            Have fun.

Most of all, don't make becoming a vegetarian be a restrictive, gruelling ordeal. If you feel like you're depriving yourself, you won't last long. But if you feel like you're doing something good, and trying out some great-tasting food, you'll stick with it for much longer (for life, I hope). Have a great time along the way.